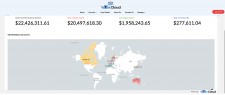 Global VaTax announces its affiliate program for corporate travel agents
NEW YORK, April 24, 2019 (Newswire.com) - ​​​Are you a corporate travel agent booking international business travel arrangements?
You work hard to gain corporate travel clients. You offer your clients cost and time savings by booking their business travel arrangements.
Did you know that you can save your clients up to 25% on international travel spend without incurring any upfront fees?
International business expenses incur VAT charges on invoices and as a US business, you can recover your VAT charges.
What is VAT?
Similar to the United States' sales tax system, many other countries have a Value Added Tax (VAT) system. VAT is a consumption tax, ranging between 8 - 25%, levied on both goods and services in most international countries.
Some of the services that corporates can reclaim VAT include:
· Hotel and Transportation
· Meals and Business Entertainment
· Professional Fees and Marketing (Accounting, consulting, legal fees...)
· Global Contracts (Global contracts where part of the services are done in Europe)
· Import and drop-shipping VAT
The national tax systems of Europe, UK, Canada, Japan, South Korea, and Australia allow for a refund of VAT (tax) to most non-resident business entities worldwide. In most cases, U.S. companies are eligible for a VAT refund for business done internationally.
Why Global VaTax?
Most companies aren't familiar with the concept or the intricacies surrounding the VAT reclaim opportunity. Of the companies surveyed by the Organization for Economic Co-Operation and Development, 72% found reclaim procedures difficult to navigate. 20% were unable to recover any VAT expenses at all. It is extremely difficult to steer through the red tape, language barriers and other complications and requirements unique to each country and its specific Tax Authority.
Global VaTax specializes in the VAT reclamation service. Utilizing its VaTax Cloud software and international pool of experts, client documentation is extracted, ordered and completed in the format required. Claims are submitted to relevant Tax Authorities and the process continues to be managed until such times as the Tax Authority issues a refund and the refund is transferred to the client. Global VaTax manages the whole process from start to completion and affords the client transparency throughout the process.
There are zero fees upfront and zero risks. Global VaTax takes a percentage of the successful reclaim as its fee.
At the same time, Global VaTax offers corporate travel agents a referral commission. Simply introduce your client to the concept. When they register interest, refer them to Global VaTax and the entire process thereafter is taken care of. In a challenging economic climate, you will create a new revenue stream for your own business with minimal effort.
Are you interested in offering these 'found money' savings to your clients and earning an extra commission for it, please contact david@globalvatax.com or visit www.globalvatax.com.
Source: Global VaTax
Share: